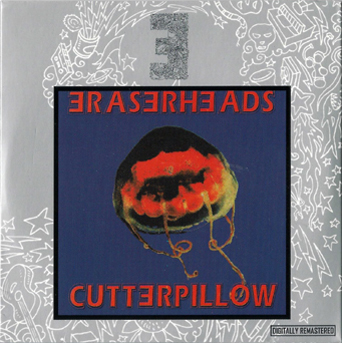 Cover illustration by Arnold Arrre
Graphic design and layout by Cynthia Bauzon Arre
Original album:
Art direction & sleeve design: John Joel Lopez
Design layout: Joey Navera with Ely Buendia & Lemon Marasigan for Cowpunk! Designs
Computer Generated Icons created by: Joey Navera
Jellyfish appears courtesy of Brown RadYo! Entertainment, Inc.
CUTTERPILLOW
[Digitally-Remastered]
Matrix Information:
Mirror band: CUTTERPILLOW /e - 10062408 - (barcode) - FAS L101
Plastic hub: IFPI 2103
Box Set Catalog Number: 8-86974-90052-8
(P) & (C) 1995 BMG Records (Pilipinas), Inc. / 2010 Sony Music Entertainment (Philippines), Inc.
(Part of the box set, "The Heads Set" - Promo release on September 7, 2010)


Digitally-remastered by Angee Rozul

* previously an unlisted/secret track
** previously an uncredited CD-only bonus track; a sort-of continuation to "Overdrive's" outro;
an "oration" featuring: Joey, Jeng, Raf & Julie
Complete production credits, details & lyrics in "The Heads Set" book
Lyrics pages c/o Alekz & Dawn's E-Smallroom.com Archives