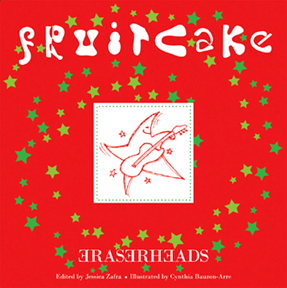 Illustrated by Cynthia Bauzon-Arre
FRUITCAKE
International Standard Book Number:
ISBN 978-971-27-2165-6 (newsprint)

Publisher: Anvil Publishing, Inc.
Release Date: December 6, 2008
Price: PhP 295


Story by Eraserheads (Marcus Adoro, Buddy Zabala, Ely Buendia, Raimund Marasigan)
Text and afterword by Ely Buendia
Edited by Jessica Zafra
Designed and illustrated by Cynthia Bauzon-Arre

Release / Edition:
First printing, 1997 (bookpaper and MCP eds.)
First printing, 2008 (newsprint ed.)

Book size: 8 x 8 in.
Weight: 0.175 kg.
Number of pages: 152
Language: English

Published and exclusively distributed by:
Anvil Publishing, Inc.
8007-B Pioneer St., Bgy. Kapitolyo, Pasig City 16030

Printed by Cacho Hermanos, Inc.

(C) 1997 Ely Eleandre Buendia, Marcus Antonius Adoro, Hector Zabala, Raymund Marasigan (Eraserheads) and Anvil Publishing Inc.

Sold at National Bookstore & Powerbooks locations
'Fruitcake' (2008) book on Anvil Publishing's website: http://www.anvilpublishing.com/shop/fruitcake/
(dead link; does not exist anymore)
Notes:
- This was the 2008 re-issue of the companion storybook of the album, "Fruitcake"
- The cover's color scheme was red-white-green; replacing the 1997 edition's white-black-gray
- What used to be a blank page before page 1 in the 1997 edition became a dedication page in this 2008 edition (For Eon, Una, Atari, Veda, Akira, Keona, and Zoe. The kids are alright.)
- A two-page afterword by Ely Buendia replaced the 'Acknowledgments' page in the 1997 edition

This book is already out-of-print!
Teaser:
Anvil @ Blogspot.com - http://paperbooks4ever.blogspot.com/2008/11/know-what-this-is.html

Press Release:
Anvil @ Multiply.com - http://anvilbooks.multiply.com/journal/item/4/FRUITCAKE_by_the_Eheads_Reissued
[ Reviews ]
[unknown source; incomplete]; 1997
The Manila Bulletin; January 22, 1997
Kampus Magazine; March 1997 - Tabbie Ching
Philippine Daily Inquirer; April 11, 1997 - Ruel S. De Vera