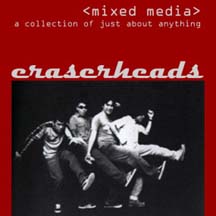 Cover by Schizo
Mixed Media : A Collection Of Just About Anything
CFU-PRO-3-2003
Release: August 25, 2003
1. Milk And Money (Promo Version) *
2. Pare Ko / Shirley / Toyang (Ultraelectromagnetic Medley – Live) **
3. Alapaap / Tikman (Live) ***
4. Billie Jean (Instrumental Jam) / Andalusian Dog (Live Soundcheck) ****
5. Harana (Wave Remix – Schizo Edit) *****
6. Casa Fantastica (Live Bootleg) ******
7. Halo, Halong Digmaan (Demo) +
8. Ultrasound (Intro Loop) ++
9. Viewer's Choice Award Speech +++
10. Ang Huling El Bimbo (Tunog Kalye Mix) *****
11. Get This Love Thing Down ("Late Ely" Instrumental Jam) ++++
12. Playground (Flash Intro Loop) ++
13. Tamagotchi Baby (Live Bootleg) +++++
14. Ligaya (Tunog Ghost Mix) *****
15. Harana (Live) **
* Recorded by Angee Rozul at Tracks, Manila, Philippines. Mixed by John Seymour at Electric Lady Studios, New York City, NY in September 1997. From the 3-track promotional CD, "Eraserheads" (1997 Greater East Asia / BMG Records (Pilipinas) Inc. / ASIA CDS 45). Original version appears on "Sticker Happy".
** "97.1 DWLS-FM Anniversary Concert", Kampo, West Ave., Q.C. on August 29, 1997; Broadcast on Campus Radio 97.1 DWLS.
*** "Martin After Dark", November 1995; featuring Ely, Raimund & Jeng Tan (Keltscross) on bass.
**** Calvin Simmons Theater, Henry J. Kaiser Convention Center, Oakland, CA on May 10, 1997. "Billie Jean" originally by Michael Jackson.
***** Remixed by DJ Mikel "The Beatmaster"; from the pirate compilation CD, "Tunog Kalye 2" (M-Planet Group Philippines).
("Ligaya" remix also contains elements of 4 Non Blondes' "What's Up" & The Psychedelic Furs' "The Ghost In You").
****** audience recording by Taj; Freedom Bar, Q.C.
+ featuring Ely on lead vox & bass, Raimund on drums, back-up vox & guitar and Romel "Sancho" Sanchez on guitars & back-up vox. Original version appears on the compilation, "1896 Ang Pagsilang".
++ audio from "Eheads Online : The Official Eraserheads Website" (www.eheadsonline.com)
+++ Eraserheads' speech after winning the 1997 MTV Asia Viewer's Choice Award for "Ang Huling El Bimbo", pre-taped at the Radio City Music Hall, New York City, NY in September 1997. Broadcast on MTV Asia.
++++ featuring Marcus, Buddy & Raimund; audience recording by Tin; Mayric's, Manila on April 24, 2000.
+++++ audience recording by Mick; Fairfield Showground, Sydney, Australia on April 25, 1999.
Archives courtesy of:
Circusfreak, Taj Mahal (zamboanga / cebu) – tracks 2, 6, 15
Circusfreak, Katzkulitz (simi valley, ca) – tracks 3, 9
Circusfreak, Tim (west covina, ca) – tracks 5, 10, 14
Circusfreak, Mick (sydney, australia) – track 13
Circusfreak, Tin (indio, ca) – track 11
Sancho (quezon city) – track 7
Compiled, cooked & burned by Schizo for Circus on July 28, 2002
Exclusively produced for CircusFreaks United
CIRCUS does not endorse the buying of pirated music; just do-it-yourself!
Trade Free Music…Do Not Sell!
CFU-PRO-3-2003
DOWNLOAD LINK:
http://www.mediafire.com/download/mjdn2im0gz3/Eraserheads_MixedMedia.rar